Antiviral Filter Virus Guard
Healthcare Products
Effective against COVID-19 virus (SARS-CoV-2) !!
An antiviral performance test of Virus Guard against the COVID-19 virus (SARS-CoV-2) was conducted by Japan Textile Products Quality and Technology Center (QTEC). And it has been confirmed that it is effective in reducing 99.9987% of the COVID-19 virus (SARS-CoV-2) in only one hour.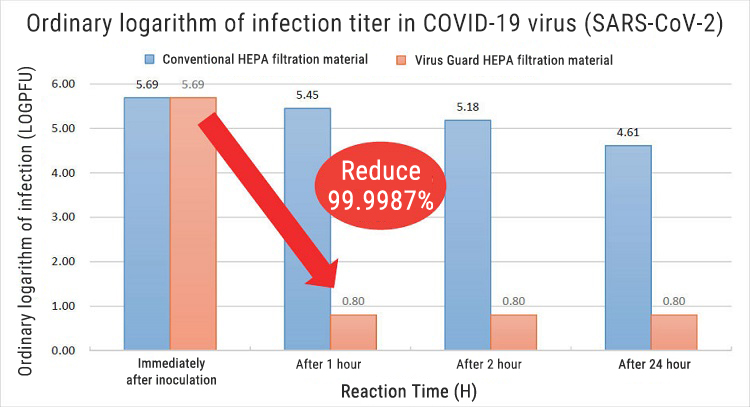 *1 Conducted using a test method in accordance with ISO21702.
Please note that this demonstration is an evaluation in a laboratory, and does not indicate the effect in an actual use environment.
It does not assure absolute efficacy in the prevention of COVID-19 infections.
How to reduce viruses?
Viruses are reduced by two forces, copper ion and reactive oxygen species.
Antiviral and Antibacterial mechanism
When monovalent copper compound nanoparticles contact with viruses or bacteria, monovalent copper ions elute in moisture.

Monovalent copper ions react with oxygen and reactive oxygen species are generated.

Copper ions and reactive oxygen species reduce viruses and bacteria.
The high oxidizing power of reactive oxygen species can denature and reduce the number of viruses.
Which viruses have been shown to be effective?
It has been shown to be effective against a wide range of viruses, regardless of the presence or absence of an envelope, such as Influenza viruses with an envelope which is similar structure to the new coronavirus.
Microorganism Species
Classification
Name
Strain name
Virus
with envelope
Influenza virus A/H1N1
A/New Jersey/8/76
A/PR/8/34
A/Califormia/07/09 (Pandemic in 2009)
A/Swine/1976/31 (Swine influenza)
A/WS/33
A/Virginia/ATCC1/2009
A/Virginia/ATCC2/2009
Influenza virus A/H3N2
A/Kitakyusyu/159/93
A/Aichi/2/68
A/Udorn
A/Hong Kong/8/68
A/Parth/16/2009
A/Victoria/210/09
Influenza virus B
B/Hong Kong/5/72
B/Brisbane/60/2008
B/Lee/40
B/Taiwan/2/62
Avian (bird) influenza virus
H7N1
H5N3
Swine coronavirus
TO-163
without envelope
Feline calicivirus (norovirus alternative)
F-9
FC61
EJ4N
Mouse norovirus
S7
Furthermore, It is effective in reducing influenza virus by more than 99.99% in a very short time.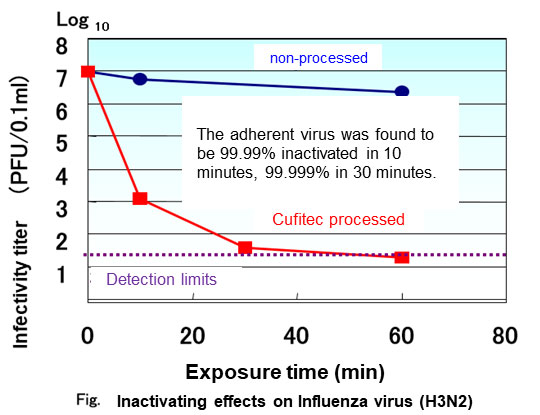 How is antiviral agent applied?
The size of inorganic nanoparticles are about 50nm, and it is coated on entire fibers without clogging when processed into filter materials.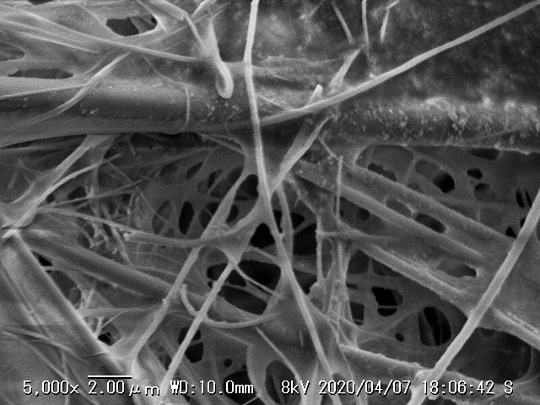 Line-ups
We provide "medium to high efficiency filters" and "HEPA filters" in various sizes to suit your application.
We also offer a stand-alone air purifier type equipped with this HEPA filter.
Please contact us for more details.